So, I have a Dora toy box in my garage. It looks a lot like this...
It's wood & sturdy.
It's also ugly and all wrong for my classroom.
I thought about sanding it, priming it, and painting it...
Maybe something like this - turquoise, corals and white with a cushion and a pillow.
Or, like this, turquoise white wash. Of course, it won't be a treasure chest.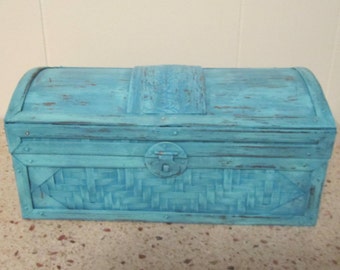 Or this might be really cute. Turquoise bottom and chevron lid. Loving it.
Then...I found this pic. It's mod podge, an old book & tissue paper...cute!! Of course, everything I mod podge is sticky. Ick.
What do you guys think?
Is mod podge your friend or foe?