My Classroom is in full test prep mode. How about yours?
This is Texas, we teach TEKS and our students take the STAAR test.
It's relatively new (okay, not new), prior to being named STAAR it was TAKS. Yes, I still call it TAKS about 50% of the time.
The difference? Rigor & it's timed.
I remember being a first year teacher (I was THE Reading Teacher for 6th & 7th Grade in a Jr. High), very green and I did not understand the impact of test scores.
Oh to be green again!
Now, I teach 3rd Grade Reading in a Title 1 School. STAAR Scores are
sadly
my life.
I've used these strategies in my classroom since I began teaching. They've been tweeked over the years, but I've used these for 3 years now and I really like them for STAAR. I made the posters in 3 different colors so they will match any decor. This year, I also made my strategies into a song that is included in the file:)
My students this year are very nervous about testing. I made these cute Good Luck Notes for them. They are
FREE
at my store...stop by and pick them up! They are included in the Strategy Pack as well.
Do you have a test prep product you'd like to share? Link up too!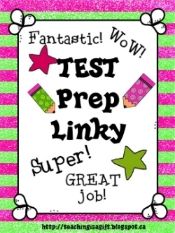 This Little Piggy had a great Saturday Night!